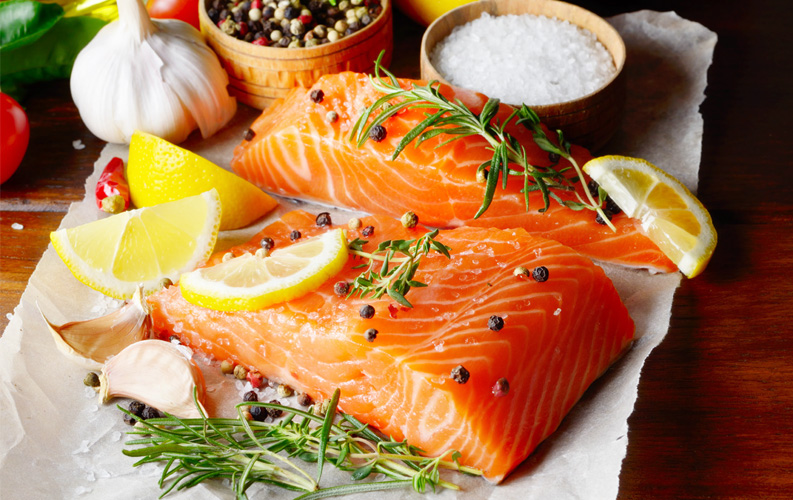 Easy Lemon-Herb Steamed Salmon
Utilizing the simplest and healthiest method of cooking, this steamed salmon takes only minutes to prepare and a handful of ingredients that you may already have on hand! And as a bonus, due to the parchment paper used for steaming, clean-up is just as simple! This delicious recipe is a total winner for everything from a  hectic weeknight with kids to a special date night with your valentine.
Salmon is packed with omega-3 fatty acids, which decades of research has linked to lower risk for cardiovascular disease and reduced inflammation in the body. In addition, this recipe uses olive oil, which is a mainstay of the heart-healthy Mediterranean diet, along with garlic, which has been shown to contribute to improved blood pressure control. Pair this savory salmon with steamed vegetables or arugula salad with lemon for a fresh, bright, and heart-healthy meal.
Ingredients
1-1½ pounds salmon, cut into
4 equal pieces
2 shallots, sliced thinly
5-6 cloves of garlic, thinly sliced
½ cup parsley, roughly chopped
1/3 cup basil, roughly chopped
A few grinds of fresh black pepper
½ teaspoon kosher salt (optional)
¼ cup extra virgin olive oil, divided
2 medium lemons, thinly sliced
1/3 cup low-sodium vegetable broth
Cooking Method
1. Prepare a large, heavy bottomed Dutch oven (with a lid) by laying a 24-inch piece of parchment paper in the center.
2. Place the shallots, garlic, parsley, basil, salt pepper and 3 tablespoons of olive oil in a medium-sized bowl. Toss to combine, then add salmon and gently spoon the mixture to cover the fish. Transfer everything to the parchment-prepared Dutch oven. If using skin-on salmon, place skin side down.
3. Place sliced lemon in a single layer over salmon, then add the remaining olive oil, along with vegetable broth.
4. Fold the parchment paper, covering the fish completely, and fold the edges over to seal into a packet.
5. Cover your pot with a tight-fitting lid and cook over medium-high heat for 5 minutes. Reduce the heat to medium-low without opening the pan (this allows the steam to remain in the pot). Cook for an additional 10 minutes. Turn off heat and allow fish to rest with lid closed for another 5-7 minutes.
6. Remove the lid, open your packet and serve immediately! Make sure to dish up the juices from the bottom of the pan — these can also be spooned over your steamed veggies! Enjoy!