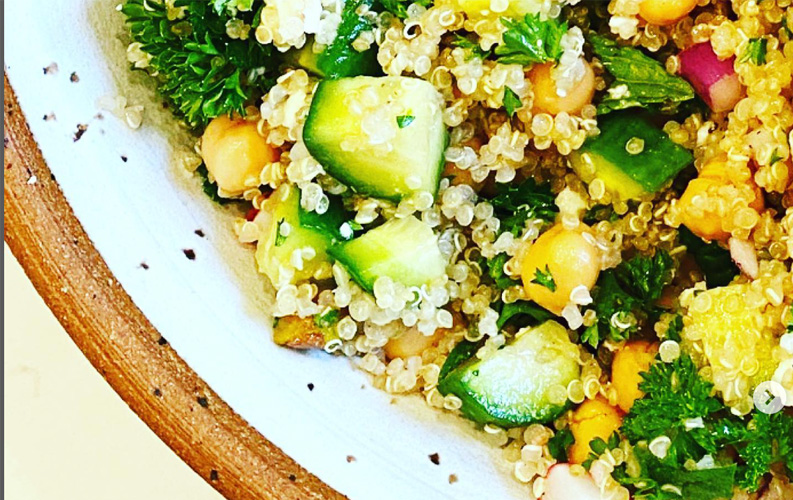 Springy Quinoa Salad
This simple recipe is a delicious way to enjoy the bounty of spring veggies and herbs, while getting excellent sources of plant-based protein from chickpeas and quinoa. The olive oil provides healthy fat and polyphenols, while the mint, cucumber, peas, and radishes burst with spring flavors. New research from the American Gut Project on diet and the gut microbiome suggests that aiming to eat 30 unique plants each week can significantly improve gut dysbiosis, which we know can contribute to oxidative stress and inflammation. So whip up this easy salad and know you are eating eight plants in one beautiful bowl!
Ingredients:
3 cups cooked quinoa
3 chopped persian cucumbers
1 cup coarsely chopped snap peas
½ cup chopped parsley
¼ cup chopped mint
¼ cup chopped red onion
3-5 small radishes, thinly sliced
1 15-oz. can chickpeas, drained and rinsed
½ cup shelled pistachios
Juice of 1 large lemon
¼ cup extra virgin olive oil
Salt and pepper to taste (optional)
¼ cup crumbled feta cheese
Directions:
Mix all ingredients except olive oil, lemon, salt and pepper, pistachios, and feta together in large salad bowl.
In small bowl or mason jar, combine olive oil, lemon, salt and pepper if using.  Stir or shake well to combine.
Add lemon mixture to quinoa mixture, toss very well to combine.
Top with crumbled feta and pistachios.