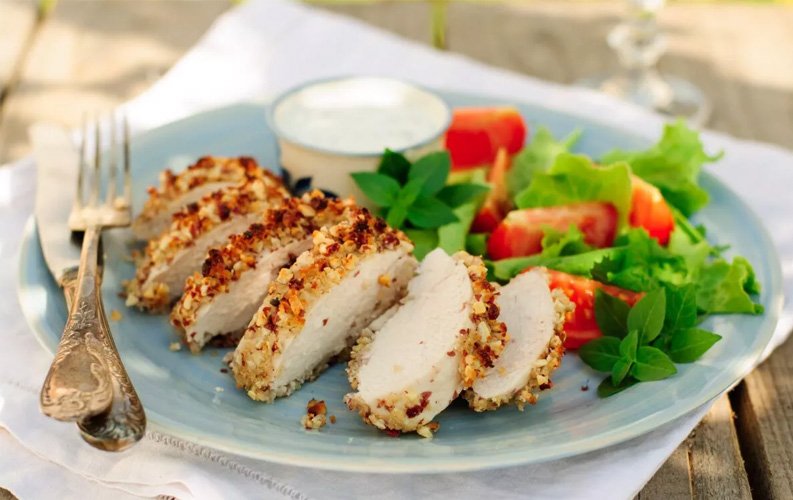 Pepita-Crusted Chicken Cutlet Salad
Ready in just 30 minutes, this South American-inspired salad is low in calories  but rich in disease-fighting antioxidants and delectable flavors. Also known as pumpkin seeds, pepitas are one of the best natural sources of magnesium — a mineral that's often lacking in the typical Western diet. Indeed, only about 20 percent of U.S. adults consume the recommended daily amount! Magnesium plays a key role in controlling blood pressure, regulating blood sugar and supporting heart health. Studies suggest that eating pepitas may also boost fertility and help protect against certain cancers.
For a flavor variation, use fish filets instead of chicken cutlets or substitute pistachios for pepitas. For a vegetarian version, use meatless "chicken" tenders.
Ingredients
For the chicken
4 skinless, boneless chicken cutlets
3 tablespoons flour
1 teaspoon chili powder or smoked paprika
½ teaspoon cumin powder
½ teaspoon freshly ground black pepper
1 egg
1 tablespoon milk
1 cup coarsely chopped pepitas
For the salad
1 head Romaine lettuce, hand torn
1 mango, peeled and thinly sliced
1 ripe avocado, peeled and thinly sliced
1 cup jicama, peeled and thinly sliced
½ small red onion, thinly sliced
⅓ cup extra virgin olive oil
2 tablespoons red wine vinegar
1 teaspoon Dijon mustard
2 tablespoons cilantro, chopped (optional for garnish)
Preheat oven to 350 F. Line a rimmed baking sheet with parchment paper. Prepare three small bowls: one with a mixture of the flour, chili powder, cumin and black pepper; one with the egg and milk whisked together; and one with the chopped pepitas. Dip chicken in the flour mixture, then dip in egg-milk mixture, followed by the chopped pepitas. Place coated chicken on prepared baking sheet and bake for 25 minutes.
Meanwhile, prepare four salad plates, layering the lettuce, mango, avocado, jicama and onion. Whisk together the olive oil, wine vinegar and Dijon mustard. When the chicken is ready, cool for five minutes, then top each salad plate with a chicken cutlet. Drizzle with the vinaigrette dressing, garnish with cilantro (if using) and enjoy! Adapted from food.com and food52.com.