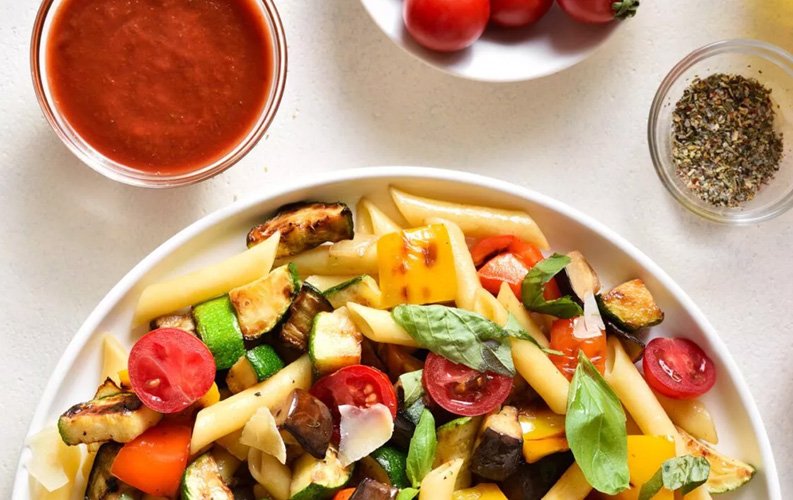 Roasted Vegetable Pasta
This easy recipe is a delicious way to enjoy colorful, seasonal vegetables and the bounty of heart-healthy nutrients they provide. Vegetables are naturally low in calories, helping you maintain a healthy weight. They are also an excellent source of dietary fiber, disease-fighting antioxidants and a variety of essential vitamins and minerals. Eating a diet that's high in fresh produce helps reduce your risk for heart disease, diabetes, certain cancers and other chronic illnesses.Ingredients
2 pounds of fresh, raw vegetables, cut into bite-sized pieces, such as carrots, broccoli, red or yellow bell peppers, zucchini, carrots, tomatoes, asparagus, pattypan squash, etc.
2 tablespoons extra virgin olive oil, plus more for drizzling
Freshly ground pepper
6 garlic cloves, minced or pressed
2 teaspoons Italian seasoning
1 tablespoon of sherry vinegar
Juice and zest of ½ lemon
Pinch of red pepper flakes (optional)
1 pound of penne, rotini, shells or other pasta
½ cup fresh basil, parsley or thyme, minced, for garnishPreheat oven to 450 degrees and line a large baking sheet with parchment paper. Arrange vegetables on baking sheet, drizzle with olive oil and season with freshly ground black pepper.

Roast vegetables for 20 minutes, stirring once halfway through cooking for more even roasting. Meanwhile, cook pasta according to package instructions and drain. Combine garlic, olive oil, spices, sherry vinegar, lemon juice, lemon zest and red pepper flakes (if using) in a large bowl and toss with roasted vegetables. Add cooked pasta and toss again. Garnish with fresh herbs and enjoy! Adapted from theskinnyishdish.com and loveandlemons.com.