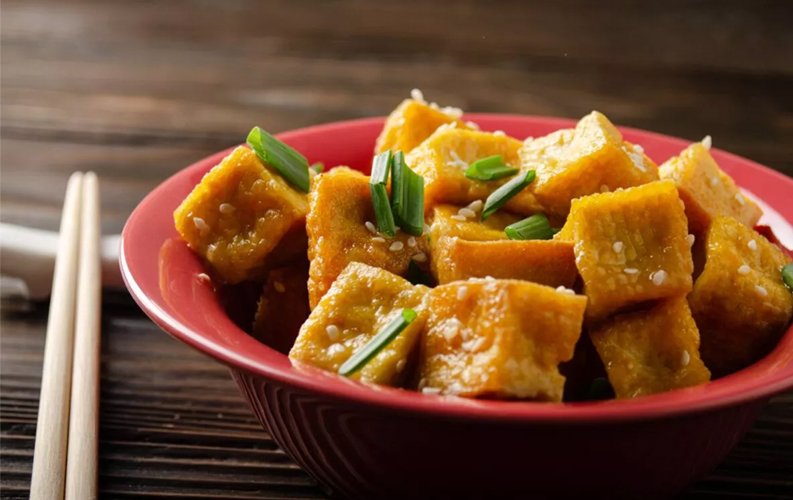 Vegan Crispy Tofu, Vegetable and Kimchi Stir-Fry
A staple of traditional Korean cuisine, kimchi offers a wealth of health benefits. Made from fermented cabbage (sometimes mixed with other veggies) and savory seasonings — including garlic, ginger and chili peppers — kimchi is low in calories but rich in essential vitamins and minerals. Studies suggest that kimchi supports heart and brain wellness; reduces inflammation, cholesterol and blood sugar; and may help slow down cellular aging.
In addition, kimchi is an excellent source of probiotics, the "good" bacteria that boost gut health. In this easy stir-fry, the spicy punch of kimchi is perfectly balanced by the sweetness of carrots, combined with tender zucchini and crispy, protein-packed morsels of tofu, for a delectable recipe that is sure to become a family favorite. Kimchi is available at many grocery stores as well as Asian markets. Check the ingredients to make sure it's vegan.
Ingredients
2 tablespoons garlic chili sauce
2 tablespoons low-sodium soy sauce or coconut aminos
1 pound firm or extra-firm tofu, cubed
½ cup corn flour
1 tablespoons olive oil, divided
1 teaspoon sesame oil
2 garlic cloves, minced
2 cups sliced carrots (about 4 large carrots)
2 cups kimchi, thinly sliced, with juice reserved
1 medium zucchini, sliced
2 scallions, sliced (for garnish)
1 tablespoon toasted sesame seeds (for garnish)
Whisk the garlic chili sauce and soy sauce or coconut aminos together in a small bowl. Set aside. Coat tofu on all sides with corn flour. Heat ½ teaspoon of olive oil in a large pan over medium-high heat. Fry tofu cubes until crispy and golden, about 2 minutes per side. Set aside. Add ½ tablespoon of olive oil and one teaspoon of sesame oil to the pan. Add garlic and sauté
for one minute. Raise heat to high and add carrots. Stir fry for three minutes, then add kimchi and zucchini to the pan. Stir fry two minutes, until tender-crisp. Add garlic chili mixture, kimchi and tofu cubes to the pan. Stir fry for one minute, stirring frequently. Transfer to serving plates, garnish with scallions and sesame seeds and enjoy! Adapted from connoisseurusveg.com and etfoodvoyage.com. Serves four.